Here are some of our recent carpet repair Citrus Heights CA jobs
How to fix or patch carpet
You can see in this picture that the seam in this room
Had pet damage and needed to be repaired.
This carpet repair is called a permanent section
But is most commonly known as a carpet patch.

We specialize in doing these carpet repairs
And would love to give you a quote on your repair.
Give us a call and let us explain our process
And give you an honest opinion as to what your options are.

Gold Coast Flooring - (916) 312 7000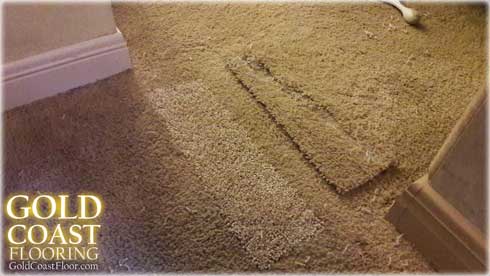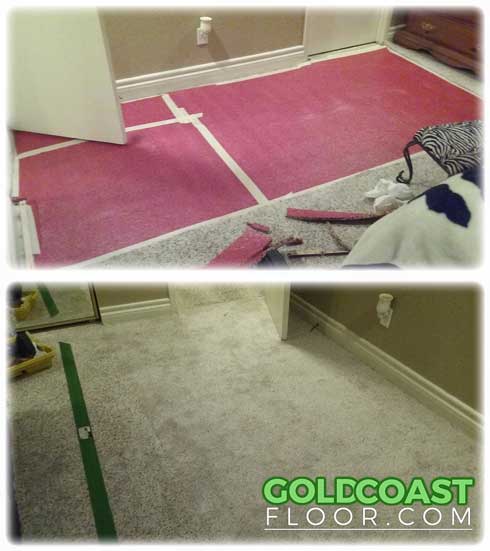 Have a dog that ripped up your carpet?
We come across this repair quite often.
As you can see in this picture the damage
Has already been cut out and removed.
This customer had their loved pet in a crate
And the dog urine soaked out onto the carpet.
We came in and cut out the damaged carpet and padding
As well as some damaged tack strips and replaced
With new carpet and padding.

With time the new carpet will blend with the old
For a flawless carpet repair.
Luckily this customer had a leftover piece of carpet
From the original installation so we were able
To do this repair with ease instead of tearing out
A piece from the closet and replacing the closet.
How to get paint out of carpet
Paint can be a nightmare to get out of carpet.
Depending on how bad the paint damage is
Most can be removed with the right solvent
And extraction process by a professional carpet cleaner.
Unfortunately as you can see in this photo
The paint was very dark and actually soaked into the carpet.
We cut out the damaged piece of carpet and padding
And seamed in a new piece to make sure this renter
Did not get hit with a carpet replacement bill.
The cost for replacing a piece of carpet is
Definitely a fraction of the cost instead of
A full carpet installation job.

Have a carpet repair you need taken care of?
Gold Coast Flooring - (916) 312 7000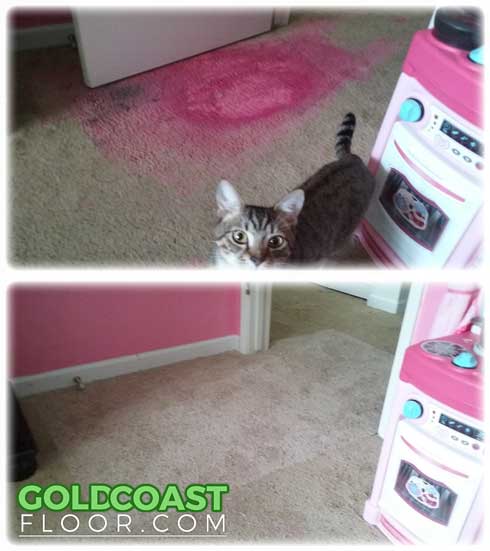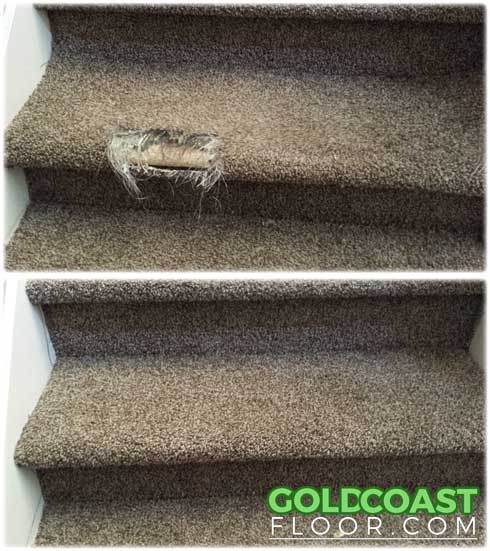 How do you lay carpet on stairs?
Can you repair carpet on stairs?
This is a question we get asked a lot.
We specialize in carpet repairs on stair ways.
If you have an inexperienced carpet installer
Attempt to do these repairs, the repair will
Not last because of all the foot traffic.

Because of the angle and foot traffic, carpet needs to be
Stapled and glued a certain way to really reinforce the
Carpet where it has been repaired.

Click here - How we repair pet damage to carpet
To watch our YouTube video on us repairing pet damaged carpet.
Carpet repair cost / Pet Damage
As you can see in this picture, pet damage can
Do a lot of damage to flooring, especially carpet.
A large dog can do this type of damage in minutes
If trapped in a room where he does not want to be in.
We get a lot of customers who left for a morning event
Or out to dinner only to come back to their carpet
And padding ripped to pieces.
Luckily you now have our information
So you can call us if you ever need this type
Of carpet repair in your home!

We always guarantee our work and never leave
A customer unsatisfied with the job we did.

We even offer carpet cleaning
In case you want to get a complete carpet care package.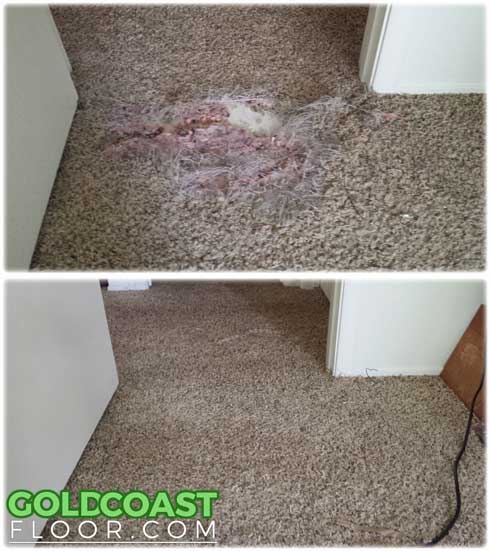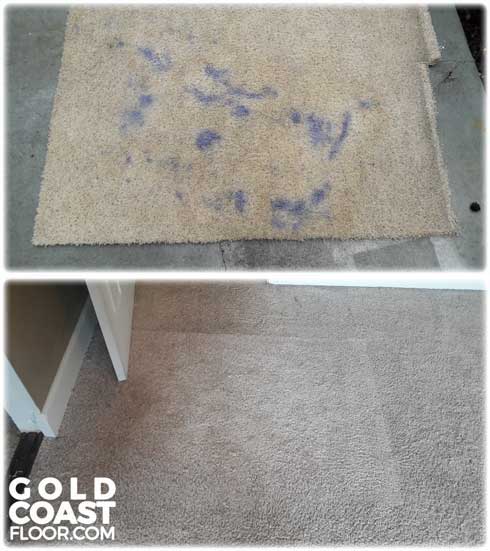 Mystery stains / Hair dye on carpet
How to remove hair dye on carpet.
Anyone who has dyed their hear knows to never
Go near any fabric or clothing you want to keep.
But accidents happen... so how can you remove hair dye?
The truth is it depends on a lot of factors.
Most of the time, by the time we get to the clients home,
They have already scrubbed some type of cleaner
Into the carpet and made the dye permanent.
As a result we have to cut out the damaged section
And install a new piece of carpet to repair the damage.

As you can see in this picture, this repair looks much
Better than dye spots everywhere, and will eventually
Blend with the old carpet in time.

Custom carpet repair / stretching jobs
Installing new furniture or removing old cabinets?
We can cut the carpet and install new tack strips
And stretch the carpet over for a perfect fit.
As you can see in this picture, this customer
Installed a custom sectional sofa and table
And needed the carpet stretched to the base.

We also do a lot of repairs where customers tear out
Walls or old cabinets and need a piece of carpet
Patched in to blend with the existing carpet and fill
The hole in between.
We specialize in carpet repairs and installation
And have all the tools necessary to complete the work.

Give us a call and let us explain our process
And give you an honest opinion as to what your options are.

Gold Coast Flooring - (916) 312 7000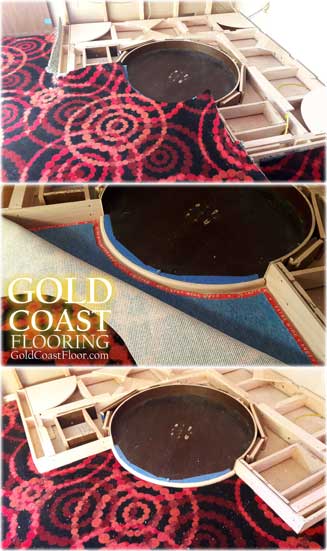 CONTACT FORM
Bobby L.
(Citrus Heights CA)
★★★★★
-
12/14/2016
My carpet looks and feels like it did when first installed.
What an amazing difference Gold Coast Flooring
Made after power stretching the carpets in my home.
We also do carpet repairs and stretching in:
El Dorado Hills
,
Elk Grove
,
Fair Oaks
,
Folsom
,
Lincoln
,
Natomas
,
North Highlands
,
Rocklin
,
Roseville
,
Sacramento
and more...
Zip Codes: 95610 95611 95621 95841
Auburn blvd, greenback lane, near sunrise mall,
Sunrise blvd, Antelope rd, Mariposa, Madison avenue,
Birdcage, Sylvan...