Here are some of our recent carpet stretching/repair jobs in Roseville CA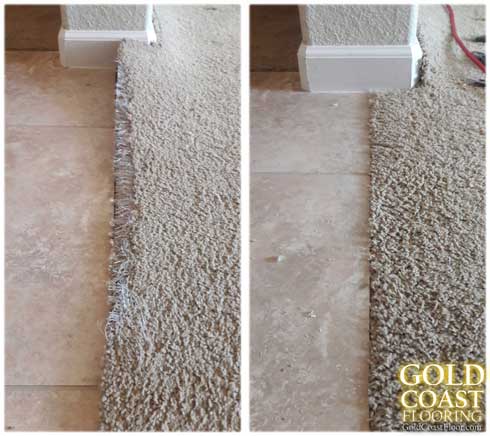 Damage Right At The Entrance?
Need A Carpet Repair?
You can see in this before and after picture
how an apointment with us can restore you carpet
Back to the condition it was in.
We were hired to repair this damage after the customers
Cat used this entrance as a scratching post.
The customer has a home based business
And needed the exposed tackstrips take care of.
We usually have to section (patch)in a new piece
But we were able to power stretch this over
And fully repair the carpet to tile.
When we were done, our customer could not believe
The amazing difference we made where the damage was.
Padding Soaked From Pet Urine?
As you can see in this picture, sometimes it takes more seems
To fully get rid of pet urine odors.
When carpet padding is too far gone
And you already spent hundreds on cleaning,
The last step before replacing the carpet
Is to seal the floor and replace the padding.
We have all the tools necessary to complete the work.
Let us work with you so we can work for you.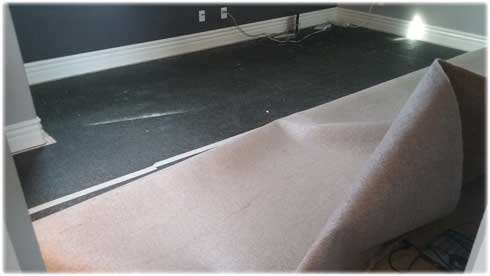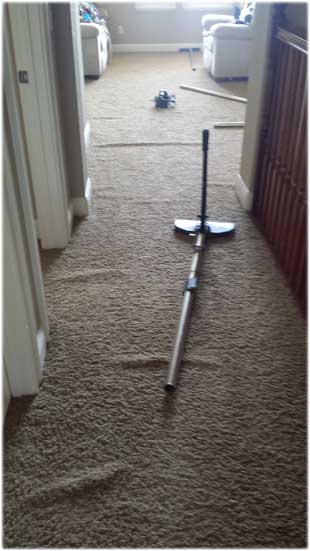 Carpet Stretching And Removing Wrinkles
Does your flooring look like the ocean
With waves forming everywhere to be seen?

This is called loose carpet
And needs to be power stretched back to a tight fit.
We use a power stretcher to this repair.
For more information on carpet stretching,
Click here - Carpet stretching and how we tighten carpet

Most of the time especially with hallways,
We need to open seams in order to stretch all areas.
But do not worry, we also specialize in seam repairs
So this is all part of the skill set we have.

Give us a call and let us explain our process
And give you an honest opinion as to what your options are.

Gold Coast Flooring - (916) 312 7000
Have A Carpet Repair Right On The Stairs?
We come across stair damages mostly because of...

Cats.

Of all the carpeted areas in your home,
Our feline friends love to scratch up our staircase.
If the damage is too bad we may replace the stair,
But most of the time we only have to do a section
That is damaged.

As you can see in this before and after picture,
This is a loop pile nylon carpet
And is harder to work with than most carpets
But we were able to replace the damaged areas
And restore this carpet back to new.

After we were done repairing this step and 2 others,
We cleaned the carpet on the stairway
For the finishing touch on a flawless job.

Gold Coast Flooring - (916) 312 7000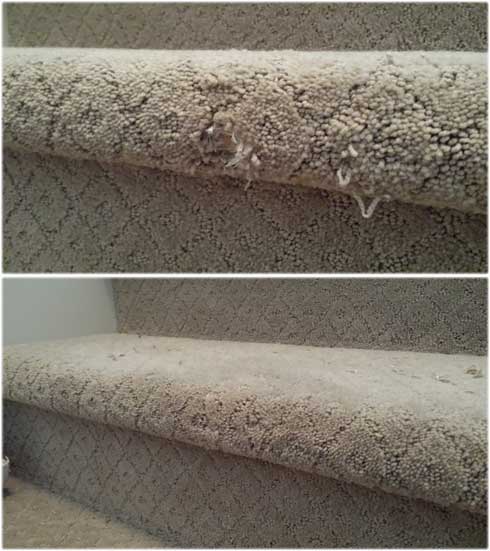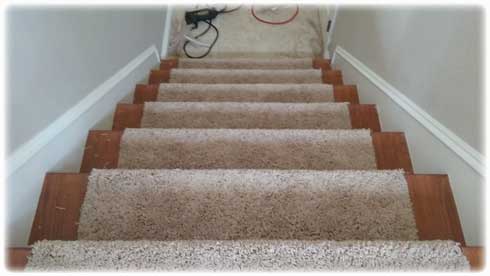 Another Stair Repair Example For Carpet Repairs
On this job we actually replaced
8 steps and sectioned a piece in for the landing area.
Luckily the homeowner had plenty of extra carpet
To do all of the repairs with.

Stairs are sometimes easier to replace
Because you can swap them in sections.

If you have any questions, or would like to get a general estimate,
Please fill out our contact form or give us a call.
CONTACT FORM
Sharon T.
(Roseville, CA 95678)
★★★★★
-
07/14/2017
Nick with Gold Coast Flooring was a miracle worker!
He completely restored my carpet that my
Puppy destroyed! Thanks Gold Coast!
We also do carpet repairs and stretching in:
Citrus Heights
,
El Dorado Hills
,
Elk Grove
,
Fair Oaks
,
Folsom
,
Lincoln
,
Natomas
,
North Highlands
,
Rocklin
,
Roseville
,
Sacramento
and more...
Zip Codes: 95661 95677 95678 95746 95747 95765
West Roseville, Blue Oaks, Woodcreek Oaks, Del Webb,
Sun City Roseville, Fiddyment, Baseline,
Pleasant Grove, Foothills, Main, Vernon,
Diamond Oaks, Douglas, Cirby, Eureka,
Sierra college, Westfield Galleria, Riverside,