Here are some of our recent carpet repair Sacramento CA jobs
Pet damage at the doorway? Need a carpet repair?
You can see in this before and after picture what an amazing
Difference carpet repairs can make in your home.

We were hired to repair this damage after the customers
Puppy dog tried to dig out of the bedroom.
The customer just moved into their apartment
And called us to come out and patch the carpet.
We took a piece from the closet and sectioned in new pieces
At 2 entries at the doorways of each bedroom.

When we were done, our customer could not believe
The amazing difference we made in their new place.

If you need carpet repairs or stretching and cleaning
Give us a call and let us explain our process
And give you an honest opinion as to what your options are.

Gold Coast Flooring - (916) 312 7000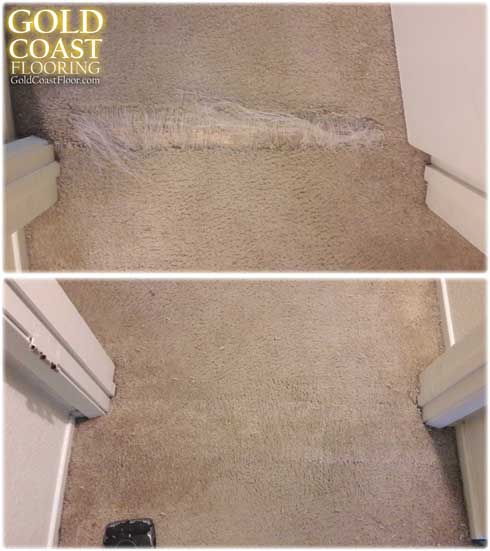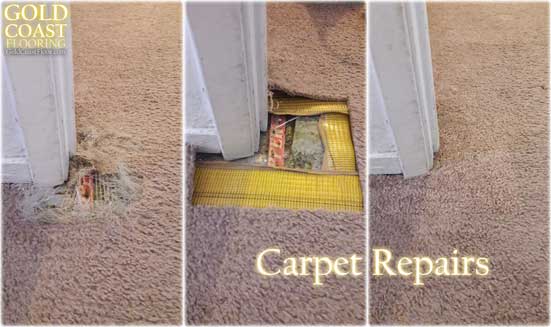 Cat scratched the carpet in the corner?
We come across this repair quite often.
Usually it's from cats being locked in a room,
Dogs usually dig at the middle of the doorway.
But cats actually like to scratch at the corners also.

Either way we have the tools and professional experience and skill
To restore your carpet and repair this damage.
This carpet repair is called a 'permanent section'.
We repair, stretch, and install new carpet
As you can see in this picture, sometimes it takes more than 1 tool
To do even a simple patch!
Don't waste your time and money renting and buying tools
And not be sure if the outcome is going to be great.

We specialize in carpet repairs and installation
And have all the tools necessary to complete the work.
We also have truck mounted carpet cleaning equipment.
Let us work with you so we can work for you.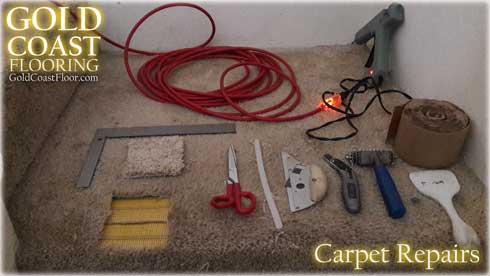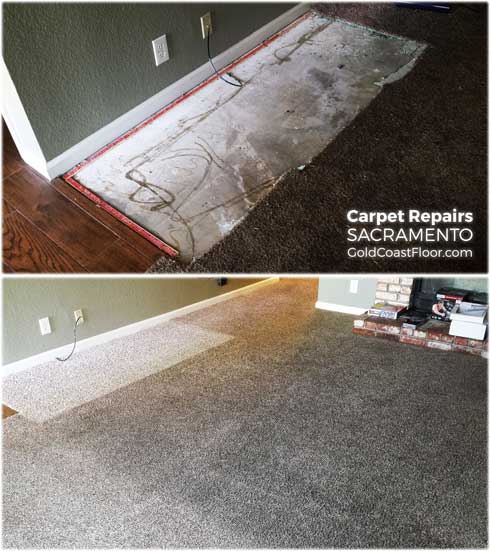 How to patch carpet holes
We come across this repair quite often.
The proper name for this carpet repair
Is a 'Permanent section' but is most known
As a carpet patch repair.
Most of these repairs that we do are due to
Pets trying to dig out of bedrooms or carpet
That has become frayed at transitions.

This picture here shows a very large damaged section
That we replaced at the entry to this home.
Due to a lot of foot traffic, the contrast in color
Will be noticeable until the new piece gets worn in
To blend with the worn area.

Click here - How we repair pet damage to carpet
To watch our YouTube video on us doing this
Type of carpet repair
Carpet repair cost / Water Damage
As you can see in this picture, water damage can
Do a lot of damage to flooring, expecially carpet.
The most common water damage we come across is
From issues with the bathroom toilet or sink.
This damage was from a broken connection under the sink.
The water flowed out into the hallway and soaked the padding.
In these cases the padding needs to be torn out and replaced
And usually the tackless strips need to be changed as well.

We Installed new padding and tackless strips
And stretched the carpet back into place in this duplex.
We even offer carpet cleaning to make sure no
Bacteria lingers in the carpet from the water.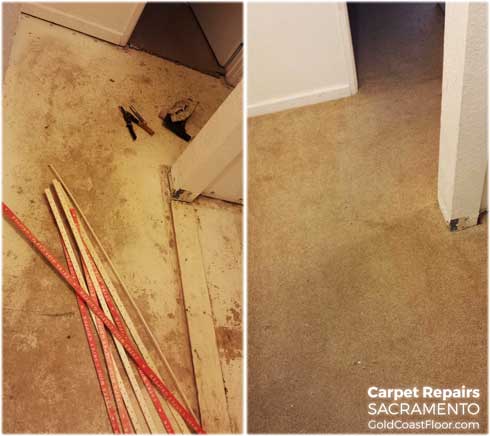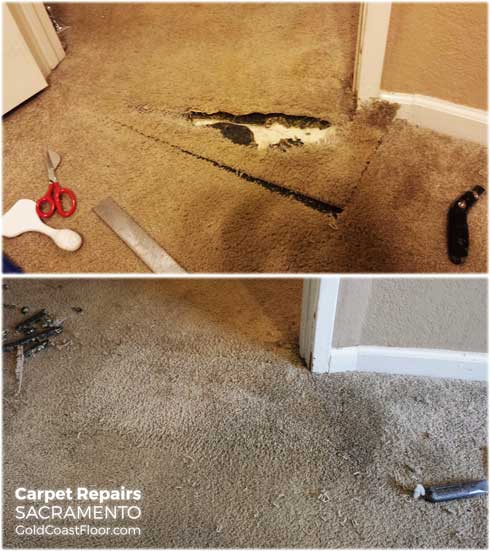 Pet damaged carpet repair
Cat scratches, dogs digging, you name it.
This is one of the most common carpet repairs we do.

PET DAMAGE

We specialize in this type of repair and can have
Your carpet back to the way it was before you know it.
take a look at this picture for example.
Most of the damages we come across are ones
That have happened while renting and the renter
needs to fix the carpet before moving out to secure
Their full deposit. We make this a stress free
Situation and work around your schedule to get this
Repair done for your move out.
After the damage is repaired, we have carpet cleaning equipment
To fully clean pet urine out of the carpet
And remove pet odors for a healthy home.
Carpet stretching cost
The average cost for carpet re stretching
Depends on the type of carpet and the layout of the room.
Some jobs are simple rectangle rooms while others
Have more complex layouts.
We charge by the square foot of the are to be stretched,
But certain areas may cost more such as hallways or custom
Rooms with columns or different angles.
Most of the time with hallways, seams will need to be
Re opened so that we can stretch all the areas.

Think of re stretching carpet as re installing carpet
The proper way by using a power stretcher.

We specialize in carpet repairs and installation
And have all the tools necessary to complete the work.
Let us work with you so we can work for you.
Give us a call and let us explain our process
And give you an honest opinion as to what your options are.

Gold Coast Flooring - (916) 312 7000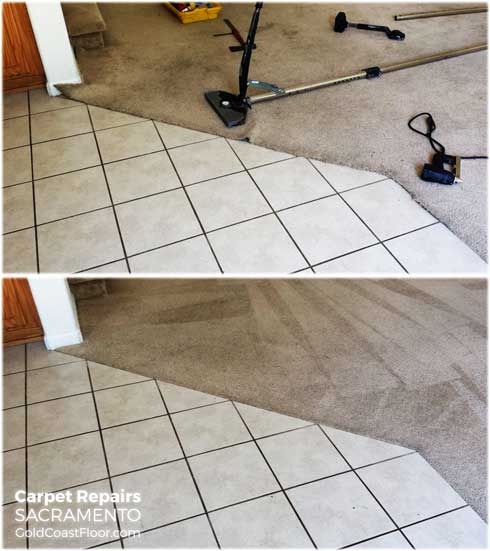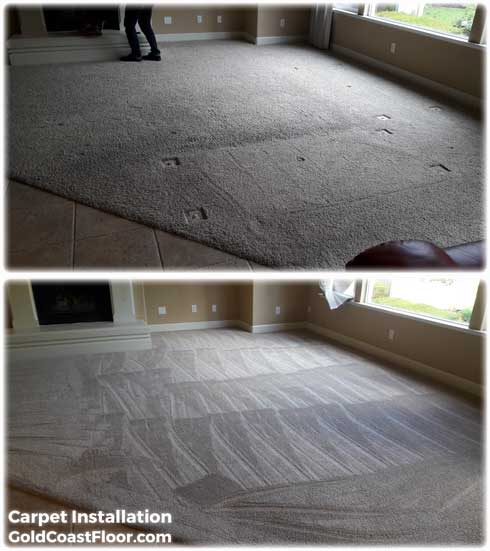 Carpet installation and power stretching
Besides being an expert carpet repair company
We also offer new carpet installation.

Click here - Carpet installation in Sacramento CA
To see the steps we took while installing the carpet
You see in this picture.
The carpet was 13 years old and was still in
Great condition because it was a Nylon carpet.
The customer wanted a change so we came in
and installed the carpet in this home.

We offer professional carpet installation
And go by the carpet and rug institute guidelines
To install your carpet the right way and make sure
Your investment will last for the lifetime of the carpet.
Local carpet repair services / Burns
Do you have a fireplace in your home?
Or smoke or have tenants that smoke and have burns
In your carpet?
This is a simple repair that we do.
Most of the time we can section in new pieces
Of carpet where the damaged areas were.

In this picture there were multiple burns
By the fireplace in this Rancho Cordova home.
The customer had a leftover remnant from the
Original installation so we were able to use
That piece to do the carpet burn repairs.
The carpet blended great with the existing carpet
And the customer was thrilled to have the burns
Gone and his home looking great again!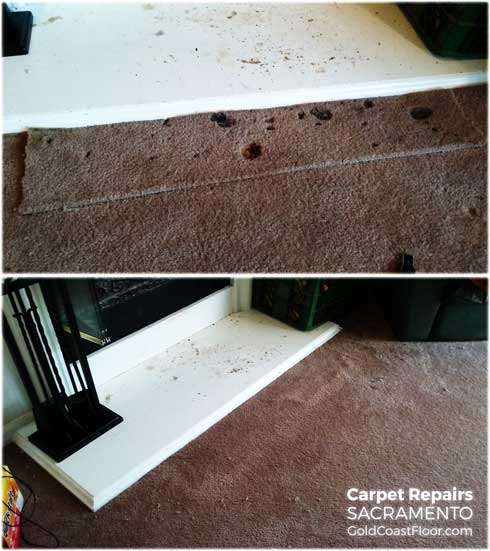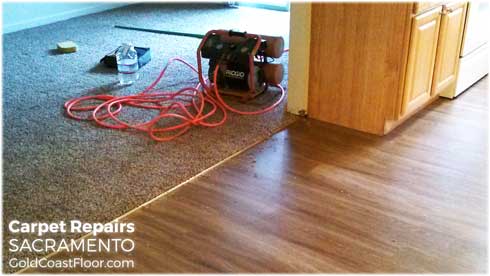 Carpet stretching specialist
As you can see in this picture, carpet stretching
Requires a power stretcher and without the proper tools
You will not get the desired results.
Call us to come get rid of unsightly carpet wrinkles
And tripping hazards due to loose carpet.
We specialize in carpet stretching repairs
And can get your home floors looking new again.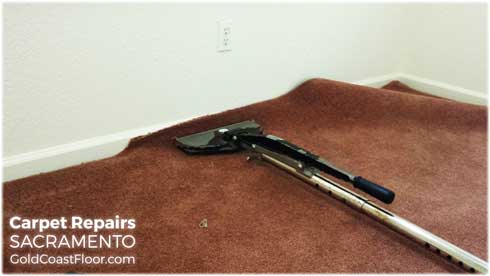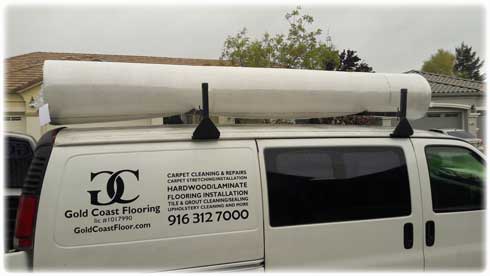 The average cost of carpet installation
Carpet comes in many different types and sizes.
Density, pile height, and the type of carpet
Are just some of the factors that make the difference
In price when installing carpet in your home.
Contact us today to find out the right carpet
for your flooring installation and let us
Point you in the right direction.

Gold Coast Flooring - (916) 312 7000
Carpet stretching and why it's important
As you can see in this picture, carpet does become loose
If not installed properly.
Most of the loose carpet we are called out to repair is upstairs.
This is because cooler air lowers and warmer humid air rises.
When the air is humid, the latex that hold the carpet together
Will relax, causing the carpet to expand and stretch.
Over years or even months depending on the humidity,
Carpet will need to be pulled up and power stretched back.

We stretch carpet in homes every week and know exactly
How to stretch carpet and the best way to stretch the carpets.

If you are interested more in how carpet stretching can benefit you
Or to get more information, call us today or send us an email.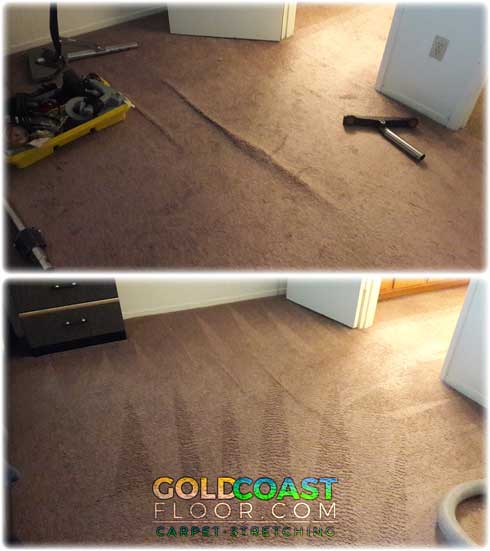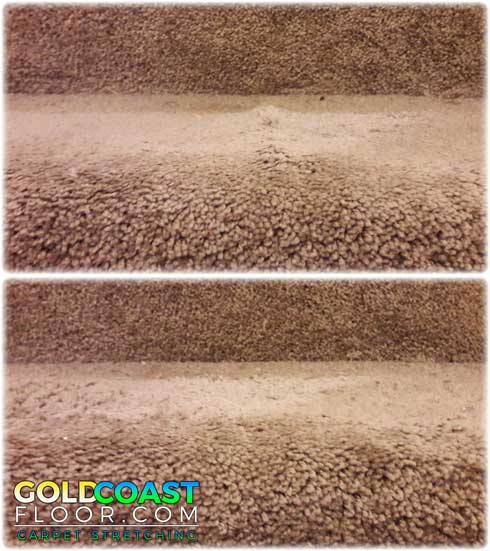 Need carpet repairs on your stairs?
Stair ways and hallways get most of the traffic in a home.
Carpet naturally loosens over time, as wear and tear
Makes the backing and fibers more flexible.
Usually it is not as noticeable if professionally installed.
On stair ways, some installers will lay the carpet very quickly
And not make sure that the carpet is very tight.

In this photo you can see there is a slight wave
In the middle of the step.
We lift the carpet up, and stretch out the step
To make sure everything is nice and snug.

Interested in carpet stretching and our methods?
Send us an e-mail or give us a call today.
Gold Coast Flooring - (916) 312 7000
Tear out that old carpet and install new carpet
Need to replace your old carpet with new carpet?
Call us to schedule a day and time to measure your flooring
And provide you with an estimate for the job.
We specialize in carpet cleaning, repairs and installing,
And can recommend which type of carpet to install for your home.
There are many different types and styles of carpet flooring,
And each has a place where they belong depending on
Each customers wants and needs.

This home was getting ready to be sold and needed the old
Carpet and padding torn out and replaced.
There were many pet urine stains and odors so it made more sense
To rip out the old carpet and pad and replace with new flooring.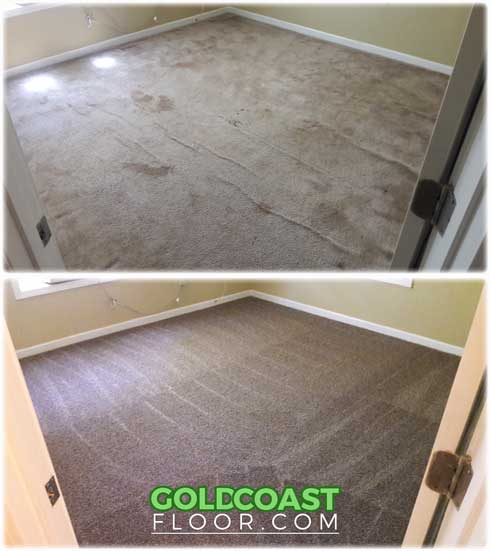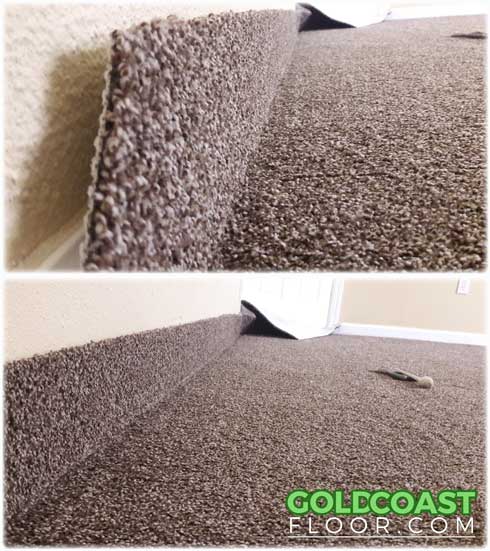 Experienced carpet installers
Don't trust your carpet installation to just anyone.
Most large name companies sub contract their work out.
Which means even though you talk to them and set up an appt.
With them, they hire a different company to do the work.
Don't make the mistake of paying one company to hire a different
Company to do the installation. Larger companies will pay them less
Which will result in installers rushing through your job
And not taking the time for a quality install.

At Gold Coast Flooring, we are family owned,
So we take the time and care with each carpet installation.
We do our best to protect your investment and make sure
You will love the look and feel of your carpets for years to come.

Call us today to get started1
Gold Coast Flooring - (916) 312 7000
What is hiding underneath my carpet?
Even if you vacuum every week or every day,
Sand and dirt particles will make their way under your carpets.
This is what was underneath the carpet on a job we did
In the Carmichal CA area of Sacramento County.
We always clean the sub floor before installing new carpet,
And make sure to seal problem areas if there was pet urine.

At Gold Coast Flooring we take the time on every carpet installation
To make sure every step is taken correctly
And that no corners are being cut during your flooring install.
We take pride in our work and have a flawless 5 star reputation
To prove that we only deliver the finest quality of work.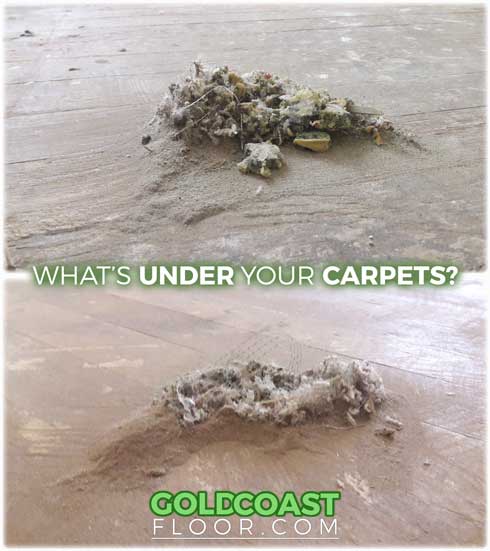 CONTACT FORM
Bob R.
(Sacramento CA)
★★★★★
-
06/08/2016
What a difference! We had our carpets
Stretched and cleaned and now they look
Just like the day we had them installed!
We also do carpet repairs and stretching in:
Citrus Heights
,
El Dorado Hills
,
Elk Grove
,
Fair Oaks
,
Folsom
,
Lincoln
,
Natomas
,
North Highlands
,
Rocklin
,
Roseville
and more...
Zip Codes: 95831 95691 95605 95815 95864 95826 95833 95821
Land park, greenhaven, rosemont, keifer,
la riviera, american river college, arden,
arcade, fulton...